Macular Degeneration Treatment
Macular degeneration is the most common cause of irreversible blindness in people over the age of 65, but there are several hereditary conditions, which can lead to this disorder at a much earlier age. It is a slow progressive disease that affects the center of the vision. This location is called macula and is responsible for central vision and gives us greatest detail in our sight.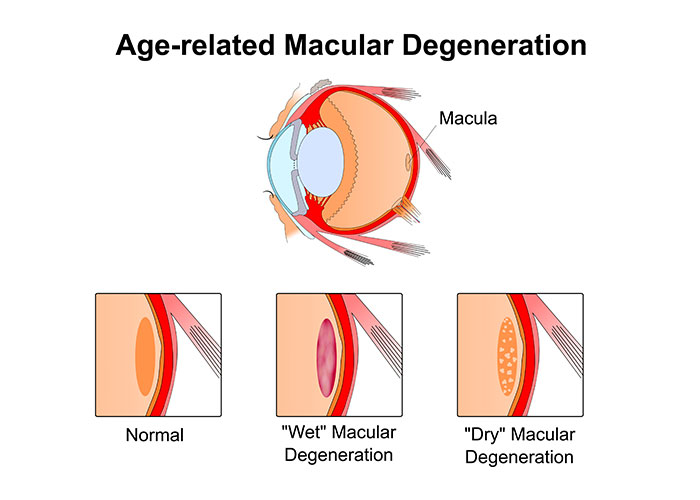 The exact cause of macular degeneration and age-related macular degeneration is not known. However the are risk factors such as age, family history, smoking, ethnicity, alcohol, sunlight, obesity, high blood pressure and heart disease which increase the risk of developing it.
The earliest changes in macular degeneration occur in the choroid, the vascular layer of the eye, underneath the retina and pigmented retinal epithelium. These changes begin as thickening of Bruch's membrane, which is the most inner layer of choroid underneath pigmented retinal epithelium. These thickened areas become raised and have the appearance of warts. These changes produce loss of pigment and cell death of the functioning layers of the retina. It eventually leads to fluid accumulation, hemorrhage and scar tissue. This result in loss of central vision, but this rarely produces total blindness, because the peripheral vision is preserved. Patients usually complain of blurred vision and difficulty with close work. They can also develop wavy lines and distortion on the center of the vision and scotomas or black spots. There is a higher incidence of macular degeneration with hypertension, arteriosclerotic vascular disease and diabetes.
There are two common types of macular degeneration described dry and wet. Approximately 85% – 90% of the cases of macular degeneration are the dry type. In the dry type of macular degeneration, drusen or small yellow deposits are accumulated underneath the basement membrane of the retinal pigment epithelium in the macula, which is the cause of deterioration of the vision. As a result of this accumulation macula thins out and subsequently loses its function. Almost all people over the age of 50 years have at least one small drusen in one or both eyes, however it is only eyes with large drusen that are at risk for late age-related macular degeneration.
In a large study called "Age-Related Eye Disease Study 2" (AREDS2) it was found those people may slow their dry macular deregulation by taking these vitamins and minerals daily:
Vitamin C (500 mg)
Vitamin E (400 IU)
Lutein (10 mg)
Zeaxanthin (2 mg)
Zinc (80 mg)
Copper (2 mg)
The AREDS2 data suggested that the beta-carotene in the original AREDS supplements could be replaced by lutein and zeaxanthin, which provides a safer drug for those who, are smokers or former smokers. Also too even though consuming fish reduced the risk of macular deregulation in the observational studies, the AREDS2 results showed that omega-3 long-chain polyunsaturated fatty acids (docosahexaenoic acid/eicosapentaenoic acid) had no beneficial effect on age related macular degeneration.
Approximately 10-15% of the cases of macular degeneration are the wet type. In wet type abnormal blood vessels underneath the retina in the macula area forms. These new blood vessels subsequently bleed and leak fluid, causing the macula to bulge and lift up from its normally flat position. Through this anatomical change patient experience distorting or even destroying of the central vision.
Dry Macular degeneration treatment is generally with nutritional therapy and a diet high in antioxidant and supportive of the macula. Certain vitamins and minerals are prescribed as described above to support the cell structure.
Wet Macular Degeneration Treatments:
---
Laser Photo-Coagulation and Photodynamic Therapy (PDT), the laser treatment reduces the number of vessels and slows their leakage.
Anti-VEGF (Vascular Endothelial Growth Factor) Therapy works to inhibit blood vessel growth. Anti-VEGF treatment helps reduce the number of abnormal blood vessels in the retina. It also slows leakage from blood vessels. Anti-VEGF medicine is injected to the eye through a very small needle. Despite the major progress in the discovery of gene variants associated with macular degeneration, the use of genetic testing to predict disease has not yet been clinically useful.
Role of diet in macular degerantion
---
There is growing evidence of the importance of nutrition in age-related macular degeneration and there has been a long-standing interest between the role of diet and macular deregulation prevention and treatment.
There is a report on the association between homocysteine, folate (vitamin B-9), and vitamin B-12 and the incidence of macular deregulation over 10 years in people taking part in the "Blue Mountains Eye Study in Australia". This study found that increased concentrations of serum total homocysteine were associated with about 30% increased development of macular deregulation over 10 years.  On the other hand increased concentrations of serum vitamin B-12 were associated with 30% reduction in macular degeneration development and increased serum folate was associated with 10% reduction in macular degeneration development. Additionally, people with folate or vitamin B-12 deficiency at baseline were approximately twice as likely to get macular deregulation.
In another study "Women's Antioxidant and Folic Acid Cardiovascular Study", found that supplementation with vitamins B-6, B-9, and B-12 resulted in a 40% reduction in the risk of developing macular deregulation over an average of 7 years of follow-up.
In another interesting study the consumption of a high-glycemic diet resulted in many macular degeneration features like RPE hypopigmentation and atrophy, lipofuscin accumulation, and photoreceptor degeneration, whereas consumption of the lower-glycemic diet did not. Critically, switching from the high glycemic to the low glycemic diet even late in life arrested or reversed macular deregulation features.
Gut microbiome is responsive to diet.  A study showed in addition to high glycemic diet, Clostridial bacteria in the gut was associated with macular degeneration. On the other hand Serotonin, Bacteroids and low glycemic index diet were protective against macular degeneration. The gut-retina axis is a true fascination as modification in the intestinal microbiome with diet can be protective of this sight threatening disease.
At Sand Institute we follow a three day program protocol as alternative eye care improvement of the vision. This is a comprehensive 3 day program with one year of follow up care.
The summary of the 3 day program is as follows and what is included in the 3 day program.
Day 1: Evaluation
An in depth eye history: This is required to explore and understand the underlying cause of the disease, which has contributed to the eye problem and use this information to develop a treatment plan to regain vision.
Past medical history: This is very important, as it will show the connection between physical problems and those contributing to your eye disease
Medications: every medicine can have a toxic effect on the eye condition of your eye.
Dietary history: food is your best medicine.
Evaluation of the stresses in your life: We help you to establish a program to reduce the stress in your life.
Investigation of heavy metal exposure: Diagnostic testing– It is important to find out where you are with your vision, what needs to be done and then we repeat these tests at the end of the 3 days program to measure your improvement.
ETDRS assessment of vision acuity: Much different than the standard snellen or big "E" eye chart.
Light house contrast sensitivity: The test measures your ability to see letters of lighter and lighter contrast. This is related to toxicity and heavy metal poisoning.
Color Campimetry Testing: We do visual fields using movement with 4 separate colors – red, green, blue and white.
Zinc Taste Test: A simple 2 minute test that measures the intracellular level of zinc. Zinc is a key nutrient not only for the eye but also every enzymatic function in the body. A deficiency of zinc is a red flag that there are probably nutritional deficiencies in other vitamins and minerals.
Six-hour urine collection for heavy metal toxicity: This test is the gold standard to determine the levels of toxic minerals in your body. Urine is collected for 6 hours and then sent to a specialized laboratory for analysis.
Day 2: Treatment
Microcurrent Therapy: Microcurrent is a well established therapy that improves blood flow, stimulates cellular activity, reduces scar tissue and inflammation, and helps to balance the autonomic nervous system. Your 3 day program will begin with treatments that balance your autonomic nervous system, balance neuroendocrine function and treatment to reduce stress. We will design a detoxification program to help to reduce toxins in your body which are contributing to your disease. Emphasis will be placed on developing and fine tuning a customized program for your eye problem. This program will be fine tuned over the 3 days. Each day you will have 2 eye programs, a stress reduction program and a detoxification program.
Syntonic Light therapy: Syntonics or optometric phototherapy, is the branch of ocular science dealing with the application of selected light frequencies through the eyes. It has been used clinically for over 70 years in the field of optometry with continued success in the treatment of visual dysfunction, including strabismus (eye turns), amblyopia (lazy eye), focusing and convergence problems, learning disorders, and the after effects of stress and trauma. In recent years, Syntonics has been shown to be effective in the treatment of brain injuries and emotional disorders. A specific wavelength of light will be selected to help detoxify your eye, stimulate retinal function and balance the autonomic nervous system. Each day you will receive 2 light therapy treatments.
Myers Cocktail: This is a specialized intravenous vitamin mixture designed to give you the key vitamins and minerals to support the eye and visual function. It is highly suggested that all patients receive this mixture especially if you were measured deficient in zinc. It is also suggested that all patients in the program receive a Myers cocktail once a month until nutritional levels are at an optimum level.
Day 3: final evaluation
3 days of evaluation and treatment
Personalized microcurrent machine with up to 10 programs
Light therapy equipment
One month and 3 month telephone follow ups.
6 month return visit to the center.
Instructional material including telephone support.
The cost includes all of ancillary treatments such as, Myers cocktail and additional testing that might be needed. Please call the office for the cost of the program.
Get In Touch
Sand Institute is here to help your Cosmetic, Antiaging and Health goals.
Contact Us
Los Angeles Office
1964 Westwood Blvd., Suite 125
Los Angeles, CA 90025
Tel: 310-340-0171
Paramount Office
16415 Colorado Ave., Suite 212
Paramount, CA 90723
Tel: 562-297-4068