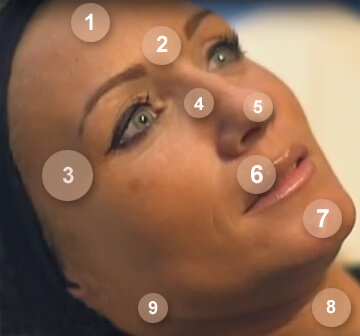 Reduce the appearances of wrinkles, frown lines, crow's feet and horizontal forehead lines
---
What we can treat:
Horizontal forehead line
Frown lines
Lifting brow, Smile lines around eyes, Crow's feet
Bunny lines on nose
Lift the tip of the nose
Smoker lines around mouth, Gummy smile
Marionette line
Wrinkled chin
Neck band
Jowl, Neferiti lift
Decollete wrinkles
---
Botulinum toxin A (BTX-A) is a FDA approved medication that has been used for over decades to treat different medical conditions and is a popular treatment option for reversing and erasing the sign of aging. Botulinum toxin A (BTX-A) injection is the most commonly used cosmetic rejuvenation procedure. It is injected into muscles to improve moderate wrinkles. Botulinum toxin A (BTX-A) relaxes the targeted facial muscles, eliminating wrinkles, frown lines, crow's feet, horizontal forehead lines and gives a lift to the eyebrows.
Although correction of the wrinkles of the upper part of the face is the major indication for Botox Cosmetic, there are many possibilities for the middle and lower face and neck rejuvenation. The injections aimed for the mid and lower face are more delicate and require a more experienced physician who is knowledgeable of the muscle of these regions, their functions and their antagonist actions exercised on other muscles. An excessive dose or an inappropriate injection point can result in an undesirable side effect. In addition rejuvenation of mid and lower face requires much lower doses than in the superior part of the face with excellent satisfactory results. Injection of the mid and lower face can correct gummy smiles, improve marionette lines, peau d'orange or wrinkling chin and smoker lines. In the neck it is possible to reduce platysmal bands, horizontal lines, and décolleté wrinkles. A more youth full contours of the face can also be improved by the Nefertiti lift. Using Botox in the mid and lower part of the face is often a complement to other esthetic techniques, particularly filling procedures. There are other application for Botox Cosmetic such as excessive sweating or hyperhydrosis.
Botulinum toxin A (BTX-A) blocks the release of the neurotransmitter acetylcholine, thereby inhibiting the muscle contractions that cause wrinkles. The injection is done with a tiny needle and takes about 10 minutes and it is safe and simple. Small bruising at the site of injection might occur which can be easily camouflaged with makeup. After treatment, the wrinkles are gradually reduced in 2-4 days. The effect of BOTOX® Cosmetic is temporary, and the treatment needs to be repeated every 3 to 4 months. It is important to dose the Botulinum toxin A (BTX-A) just right in order to preserve facial muscle impression.
Botulinum toxin A (BTX-A) is the most potent of the seven stereotypes and is the form available commercially in three approved products; BOTOX® (onabotulinumtoxin), Dysport® (abobotulinumtoxinA), Xeomin® (incobotulinumtoxin)
Get In Touch
Sand Institute is here to help you reach your weight and health goals, whatever they may be.
Contact Us
Los Angeles Office
1964 Westwood Blvd., Suite 125
Los Angeles, CA 90025
Tel: 310-340-0171
Paramount Office
16415 Colorado Ave., Suite 212
Paramount, CA 90723
Tel: 562-774-2306