Laser Tattoo Removal in Los Angeles
If you are not a proud owner of a tattoo on your body and thinking about removing it you will want to read this page. Even though you were told the tattoo you are receiving is permanent, fortunately with newer sophisticated laser technology the tattoo removal has become a reality and gets the single color or multi color ink off of your body with laser treatment.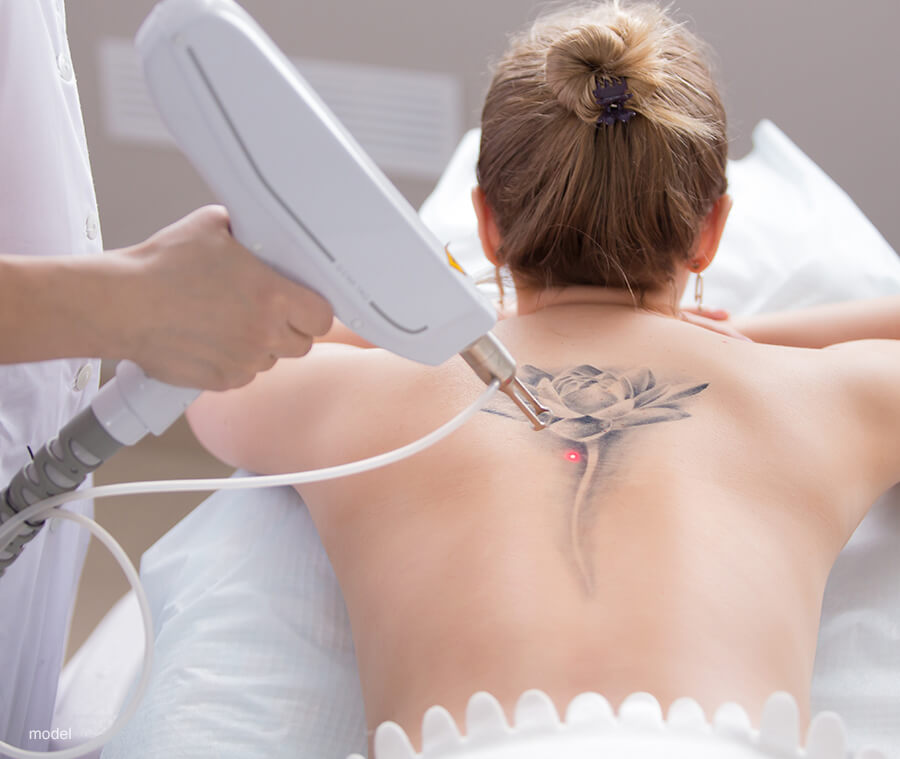 A series of treatment is required to remove a tattoo. Each color in the tattoo is frequency specific it means a specific frequency is required to remove a specific color. Fortunately with newer laser technology we don't need many laser for the task, we have all these frequencies gathered in one laser machine.
With experienced hands a tattoo can be removed with multiple treatments.
The ink can be removed layer by layer with out injuring the skin or causing skin texture change, infection, scaring or any other unwanted side effects. During treatment the ink inside the tissue vaporizes with laser. Some amount of pain is expected with the process and responds well to different modalities such as icing, injectable or local anesthetics.
Wound care is crucial in skin healing and depending on the area a bandage may be applied. At Sand Cosmetic all tattoo removal procedures are performed by Dr Sand and after each laser procedure a thorough wound care instruction is given to each individual. Once the skin of the treatment area is healed the future tattoo removal sessions will be scheduled. As with each treatment session less residual ink is left in the skin, subsequent tattoo removal sessions are less painful.
If you are interested to have your tattoo removed at Sand Cosmetic we make this process as comfortable as possible for you. Please make an appointment to come in for a consultation with Dr Sand. We hope to see you soon!
Before and After
Patient 1



Patient 2


Get In Touch
Sand Institute is here to help your Cosmetic, Antiaging and Health goals.
Contact Us
Westwood Office
1964 Westwood Blvd., Suite 125
Los Angeles, CA 90025
Tel: 310-340-0171
Paramount Office
16415 Colorado Ave., Suite 212
Paramount, CA 90723
Tel: 562-297-4068