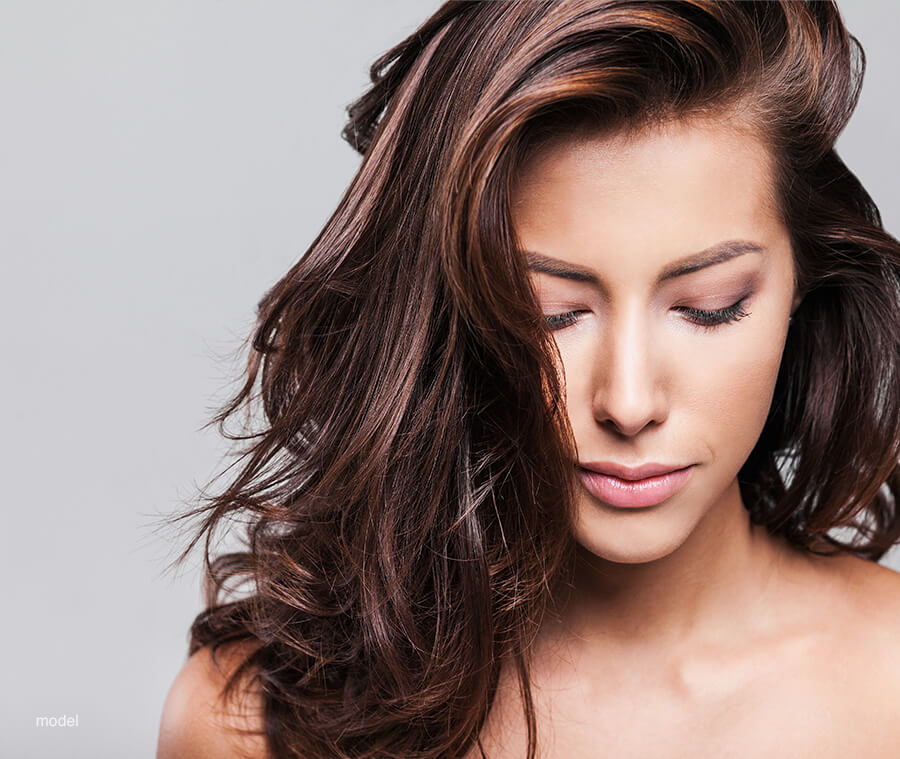 Hair loss we have two hair loss systems as follows:
1- AQ Advanced Hair Complex+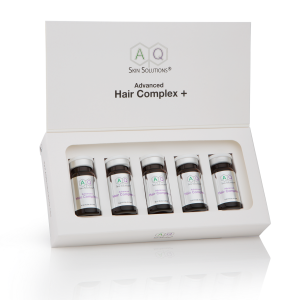 Get to the root of the problem with AQ's follicle-stimulating formula.
Advanced Hair Complex+ Benefits
Designed to help prevent hair loss
May rejuvenate damaged hair follicles
Aims to improve hair quality and texture
Helps to restore healthy hair growth cycles
Can increase circulation and nutrition to scalp and hair follicles
Unique dual functionality for home-use and professional treatment in the office through microneedling
AQ Skin Solution's Advanced Hair Complex+ was created to address aging hair follicles and hair loss by employing patented growth factor technology to promote healthy hair. Stem cells lining the hair follicles are crucial for the production and maintenance of hair. Supplementing with growth factors and active ingredients provides support to these stem cells so that hair can thrive. AQ's advanced formulation works by nourishing hair follicles to a more functional and healthy state with GFs, active ingredients and fruit oils.
The Advanced Hair Complex+ aims to improve the overall condition of the scalp and damaged hair follicles, while trying to increase the circulation of select growth factor proteins found in your healthy hair follicles. This process can allow for a normal hair growth cycle that leads to improved overall hair quality.
2- AnteAGE® HAIR System
Indicated for all skin types
AnteAGE MD Hair Microneedling Solution incorporates recent advances in hair follicle science. Specialized techniques influence bone marrow mesenchymal stem cell cultures to produce conditioned media focused on hair growth (Wnt-1a pathway) while twelve bio-identical growth factors and cytokines, each with proven efficacy in hair follicle stimulation, are added to make this the most scientifically advanced product of its type.
Is a breakthrough in the promotion of natural, healthy hair growth – without surgery or hormonal side effects.
The system contains two products which work together to help awaken the sleeping stems inside the hair follicle, and return them to a more youthful and active growth pattern.
AnteAGE® Hair System solution uses WNT1 Stem Cytokines™ along with a cocktail of natural stimulants to overcome the quiescence of hair follicle stem cells. The application of Hair System Solution is performed through micro-needling to enhance product penetration and follicle stimulation.
AnteAGE® Hair Polybotanical utilizes plant-derived biosignals shown to promote hair growth, combined into a powerful extract for topical application. When applied regularly, these pure isoflavones will create an optimal environment for growth cycles.
Before & After Image
---
Results after 2 treatments
Results after 1 treatment
Get In Touch
Sand Institute is here to help your Cosmetic, Antiaging and Health goals.
Contact Us
Westwood Office
1964 Westwood Blvd., Suite 125
Los Angeles, CA 90025
Tel: 310-441-2263
Paramount Office
16415 Colorado Ave., Suite 212
Paramount, CA 90723
Tel: 562-272-4277