Fillers
Injectable fillers correct wrinkles and restore lost volume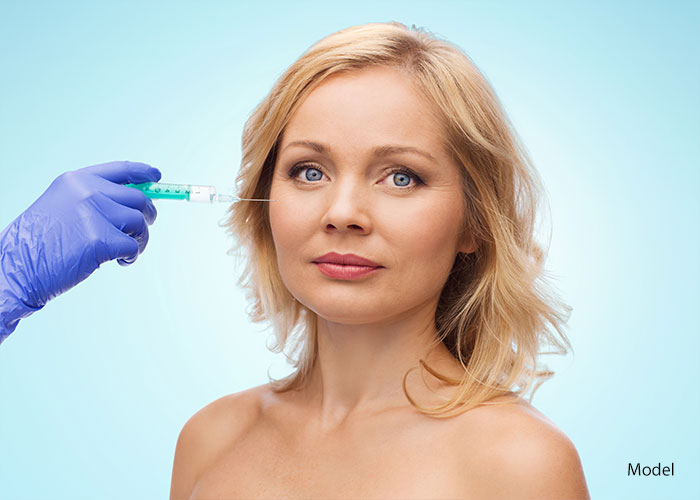 Boost your skin's appearance
---
What Can We Treat With Fillers?
Frown line or glabellar lines, temporal hallowing, crow's feet, eye wrinkles, tear trough, remodel nose, nose imperfection, lost cheek volume, give volume to cheek, nasolabial fold (smile line), lip augmentation, smoker line or wrinkles in vermillion border, enhance thin lips, Jowl or hanging corner of the mouth, aging ear lobe, neck and décolletage, aging hands, large pores, acne scars
---
In a young looking face the skin is elastic and firm and there is an abundance of collagen, elastin and hyaluronic acid giving a firm and full look to  the face.  With aging collagen, elastin and hyaluronic acid become less plentiful, skin laxity increases, lines and wrinkles are formed and volume is lost.
With fillers we can reduce its impact and get back the lost contour and volume buy using dermal fillers. Millions of people have chosen this non-invasive option as first step of looking younger and bringing back the lost glow and charm once they possessed. The fillers correct the wrinkles and restore the lost volume immediately and beautifully. The results are natural and pleasing and the process re-sculpts and brings the fresh look back to face.
At Sand Institute we use dermal fillers to "fill in" the wrinkles and liens and also replacing the lost volume in the face, body and hands. The process is also called "volumizing".  ​
We also use HA injection as "skin boosting" concept, injecting low doses of cross-linked HA in superficial dermis to increase water retention and encourage new collagen synthesis in the skin. With new fillers getting approved and others in clinical studies it allow us with a complete portfolio to correct volume and bring back a more youthful appearance to our patients.
Dermal filler brand carried at Sand Cosmetic Institute are all from very reputable companies that have a long track record in the health and beauty industry. They are all 100% non-animal originated hyaluronic acid and other absorbable with different concentration, cross linking patent and different absorption time.
There are millions of individuals worldwide that have been treated successfully with dermal fillers. The product is a clear gel, soft and smooth and is similar to our own body's hyaluronic acid. It is a non-animal product; therefore there is no risk of transmitting diseases or eliciting an allergic reaction. It can be used instantly without skin pre-testing. Lidocaine a numbing compound has been added to most of the products to make the treatment as comfortable as possible. The injection is done with a tinny needle and results are immediate. Some swelling and bruising is normal and will resolve within 1-2 weeks. Depending to the area of correction the procedure takes about 30 minutes.
After injection HA binds with water and generally remains in the area of the treatment for a long time. Nutrients, oxygen and hormones are able to pass freely between the injected HA particles, leaving the skin healthy and natural looking.
The list presented here is far from being conclusive as there are new compounds with many new innovative technologies being constantly approved by FDA: JUVÉDERM®, Belotereo, Restylane®, Sculptra, Raddiesse®.
Get In Touch
Sand Institute is here to help you reach your weight and health goals, whatever they may be.
Contact Us
Los Angeles Office
1964 Westwood Blvd., Suite 125
Los Angeles, CA 90025
Tel: 310-340-0171
Paramount Office
16415 Colorado Ave., Suite 212
Paramount, CA 90723
Tel: 562-774-2306