MINT Thread Lift
Minimally Invasive Non-Surgical Thread (MINT) PDO Thread Lift is a non-surgical minimally invasive procedure that lifts and tightens the sagging tissue. It is performed under minimal local anesthesia with no sedation to correct skin sagging of the face and neck.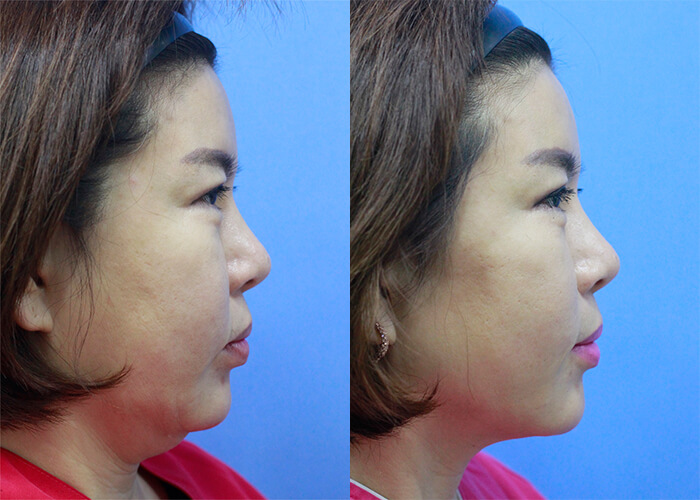 Minimal Treatment Without Scars or Trauma
---
The threads utilized in MINT procedure are made out of a material called PDO (Polydioxanone) the very same material used in surgical sutures. They are non-allergic and non-antigenic.  These PDO threads are unique as they have 360 degree 3D helical barbs. The barbs are machine molded through a patented process rather than being cut making these threads specifically strong with a great pulling effect and a superior outcome. Immediately after inserting Mint PDO threads new collagen formation process in the area begins which restores the sagging skin of the treatment area.
The Mint PDO thread lift can also be used to correct areas of the face such as forehead, eyebrows, crows feet, cheeks, mid face, nasolabial folds, jowls and neck.
There is minimal to no downtime without scaring or trauma to the area of correction, and no suture to remove after the procedure. The patients return to their daily routine right after the procedure.
There would be an instant mechanical effect right after the procedure and over time the PDO threads cause collagen stimulation, which improves skin texture, elasticity and fine lines. The end results are quite noticeable after 3-4 weeks after the procedure. The threads generally absorb gradually within six months therefore no suture needs to be removed. Some bruising is normal which subsides quickly.  Even though the threads will dissolve gradually with in six months the process of new collagen formation around the threads and increased blood circulation to the treated area continues to gain a more youthful and rejuvenated look. The procedure is extremely safe and can be repeated in the same or other areas of the face or neck as many times desired.
The Mint PDO thread is a very safe, quick and rewarding procedure with no down time. It is a great procedure for facial rejuvenation of the face and neck in patients with mild to moderate skin laxity who desire a natural and rejuvenated look. At Sand cosmetic Dr. Sand performs all the consultation and Mint thread lift procedures herself. Please contact our office to come in for a consultation for this quick lunch time procedure. We are looking forward seeing you.
Get In Touch
Sand Institute is here to help your Cosmetic, Antiaging and Health goals.
Contact Us
Los Angeles Office
1964 Westwood Blvd., Suite 125
Los Angeles, CA 90025
Tel: 310-340-0171
Paramount Office
16415 Colorado Ave., Suite 212
Paramount, CA 90723
Tel: 562-774-2306