Top 3 Reasons for a Tattoo Removal
Posted on: September 27, 2018 in Category: Laser Tattoo Removal
Tattoos are one of the most popular ways a person can express his/her individual creativity and identity. It also happens to be one of the most permanent; unlike wearing clothing and jewelry as a mode of expression, tattoos cannot be slipped off as easily as a new jacket, dress, or piercing. For this reason, many patients are beginning to turn to laser tattoo removal to remove a piece that no longer fits their lifestyle.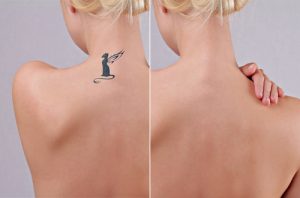 1. Feeling Embarrassed or Insecure
Nowadays, there is an increasing number of tattooed individuals who are undergoing laser tattoo removal. There are numerous reasons for this increase. In some cases, patients find that the images of their tattoos or the meaning behind them no longer depict something as important to them as it once was.
2. Being Unhappy With a Previous Tattoo
Since tattoos can be performed by a variety of people with different levels of professionalism, dissatisfaction with tattoos is a common occurrence. While many people attempt to cover up a poorly executed tattoo with another tattoo, this can often lead to unflattering cover-ups, or in some cases, a final product that is just as poorly executed as the original piece being covered.
3. Tattoo Placement
The placement of a previous tattoo is another common reason for people to undergo tattoo removal. Oftentimes, tattoos are placed early on in an individual's life. And many people choose to remove their tattoo(s) when they start a new job position. As they age, it is typical for people to work their way into higher ranking positions and roles within their careers. Unfortunately, the spider-web elbows or barbed wire bracelet tattoo doesn't always fit in with the new position or career movement.
Tattoo Removal Process
The reason tattoos are such a permanent fixture on one's body is because of how deep the tattooing needles penetrate the skin with ink. At the Sand Institute, it is typical for patients to undergo a series of treatments in order to remove the tattoo from their body entirely. The procedure is not surgical, which means that patients do not need to worry about anesthesia or lengthy recovery times. While some mild redness or soreness is typical following a treatment, any residual pain or swelling will subside relatively quickly.
If you are interested in receiving more information about tattoo removal, contact our Los Angeles office at (310) 441-2263 or our Paramount office at (562) 297-4068 today to schedule a consultation.