Should I Consider Getting Thread Lift Treatment?
Posted on: September 24, 2019 in Category: Thread Lift Procedure
Many patients dread the idea of losing their youthful glow and developing facial imperfections like sagging skin, wrinkles, and fine lines. While some patients look into surgical methods like facelift or brow lift surgery, others prefer an alternative approach that is less invasive. However, home remedies can only do so much.
Those who wish to restore their once fresh and youthful appearance can do so with a facial thread lift. A thread lift treats noticeable signs of aging to provide you with a rejuvenated facial appearance.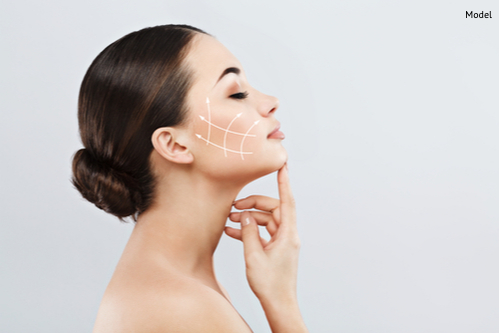 What Is a Thread Lift?
A thread lift treats visible signs of aging by tightening the underlying facial skin using strategically placed dissolvable threads. This safe and non-surgical treatment can provide results similar to other, more invasive facial procedures. Sagging skin is lifted to create a rested and firm facial appearance. A thread lift provides you with a more rejuvenated appearance in the following facial areas:
Forehead
Eyebrows
Cheeks
Jowls
Neck
Which Thread Lift Technique Is Right for Me?
Depending on the amount of correction needed, your surgeon will recommend one of the following thread lift treatments to help you achieve your aesthetic goals.
MINT Thread Lift
The MINT thread lift is best used to elevate and tighten sagging skin on the midface to create a toned and firm jaw and neckline. This technique promotes the production of new collagen in the skin and improves skin texture and blood circulation in the face while minimizing the appearance of wrinkles and fine lines.
NovaThread Lift
NovaThread uses a fine needle to inject smooth or barbed polydioxanone (PDO) threads, lifting the underlying tissues in the face and neck for a refreshed look. This technique is best used to treat facial imperfections such as sagging jowls, wrinkles, and weak neck muscles.
Silhouette Soft® Lift
The Silhouette Soft® Lift can be performed on both men and women to address issues like skin laxity on the cheeks and brow line. This method tightens the skin and facial tissues to create youthful contours.
Contact Us Today!
To learn more about our thread lift treatments, please contact our Westwood office at (310) 441-2263 or our Paramount office at (562) 297-4068. You can also schedule a consultation with us online today!