All about Wrinkles
Posted on: May 24, 2016 in Category: Wellness Guide
All about Wrinkles
What causes them, and what can you do to look and feel young again?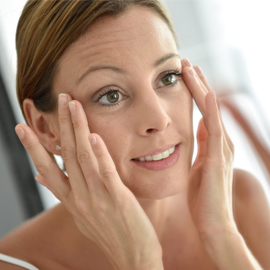 Wrinkles are one of the most common complaints about aging. They develop on the face and chest, and while they are likely to develop overtime, the appearance of wrinkles instantly make a change in your appearance. Most people dread them. Few people understand them. This combination leads to an onslaught of fabled remedies that can supposedly help reduce the appearance of aging skin, but the reality is that there are only a few things that can actually help with wrinkle reduction.
What Causes Wrinkles?
Wrinkles are a result of aged skin. They are caused by overexposure to toxins, including ultraviolet light. This means that spending too much time out in the sun or overuse of tanning beds can increase your risk of developing wrinkles, as can smoking, which directly puts your skin in contact with too many toxins.
There are two types of wrinkles that affect the skin:
Fine surface lines: These are more shallow wrinkles that are caused by overexposure to sunlight
Deep furrows: These are deeper lines that are caused by muscle contraction
Wrinkle treatment can help with the reduction and in some cases even the removal of all sorts of wrinkles, but as a general rule wrinkle treatments are going to be most effective in removing fine surface lines. However, when used to aid in early intervention and prevention, wrinkle treatment can help reduce the severity of deep furrows and help keep your skin firm and youthful.
Treatment for Wrinkles
Cosmetic anti-aging services help reduce the appearance of wrinkles, restoring firmness to the skin and providing a more youthful appearance. There are several forms of therapy that aid in wrinkle reduction. The most effective way to reduce wrinkles is to use a combination of wrinkle reduction therapies.
Sand Cosmetic offers a series of wrinkle reduction therapy options, including:
Dermal fillers
HA injection
Botox
While there are plenty of creams and ointments that are said to help with the reduction of wrinkles, a surface treatment doesn't restore skin elasticity.
Wrinkles are most common along the face, neck and chest, but can develop anywhere on the body. Wrinkle reduction therapy can target all problematic areas, including ear lobes, the corner of the mouth, around the eyes, the neck and chest, and so on. For more information about wrinkle reduction therapy, contact your anti-aging specialist.