Do Peptides Slow the Aging Process?
Posted on: May 03, 2021 in Category: Medical Weight Loss, Peptide Therapy
2 Minute Read: 
The search for the fountain of youth will continuously go on. 
But some of the most effective age-combating substances can be discovered by looking within at the sophisticated biochemical processes that keep your body running. 
Peptides are fast-acting short-chain amino acids that are naturally produced in the body. And they can be harnessed to fight the effects of aging.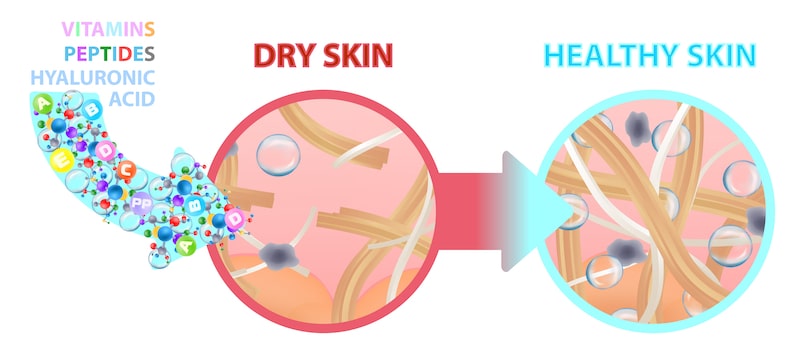 How Do Peptides Work to Slow Aging?
Peptides are one of the building blocks of proteins, so stimulating their growth at the cellular level can lead to better muscle tone and a host of other benefits, including gut health, brain health, and immune health. They can also be used to treat sexual or erectile dysfunction. 
Their biological role as molecules is to signal to other cells in the body how to function and metabolize. 
While peptides are natural, they can also be produced artificially outside the body and used in conjunction with nutrition and lifestyle changes that target issues like sluggish metabolic response and muscle loss to slow aging.
Not surprisingly, peptide therapy is also being used to treat chronic diseases, such as diabetes, autoimmune diseases, and cancer.
What Peptide Therapies Are Out There?
Peptide therapy is relatively new in the arsenal of tools for enhancing performance, health, wellness, and even aesthetics. 
Treatment with the peptide CJC 1295 leads to fat loss, lean muscle growth, and better sleep. 
Other formulations include Sermorelin and Ipamorelin, which increase growth hormone production, which encourages lean muscle mass, and improves tissue repair. 
Thymosin alpha-1 (TA1), the most commonly used peptide therapy, improves the body's ability to fight viruses and bacterial infection.
What Kinds of Results Can I Expect From Peptide Therapy?
Every individual will respond differently, but many patients report significant improvements to their athletic performance, physical appearance, and energy levels using peptide therapies. 
It's important to manage expectations. Discuss goals with your health team to ensure you can realistically reach them.
Can Peptide Therapy Be Combined With Lifestyle Changes to Enhance Results?
The best results of any therapy are usually in conjunction with a lifestyle and healthy habits that support the benefits of that therapy. 
Peptide therapy is no different. 
By restricting caloric intake, eating a mostly plant-based diet, and following an active lifestyle with regular exercise, the benefits of peptide production therapy can be maximized and maintained.
Interested in Learning More?
If you live in the Los Angeles or Paramount, California, area and are curious about how peptide therapy can slow the aging process, get in touch with the friendly staff at the Sand Institute. 
They can answer questions and set up an in-person or virtual consultation. Call (310) 441-2263, (562) 297-4068, or fill out our contact form to get started today.