Does Nutrition Play a Role in the Skin Aging Process?
Posted on: November 18, 2020 in Category: Anti-Aging Diet
2 Minute Read: 
Nutrition and its effect on the skin aging process has been a field of interest for many people throughout the years. Skin aging is a process that is majorly contributed by intrinsic aging, environment, and lifestyle factors (diet. exercise, etc.).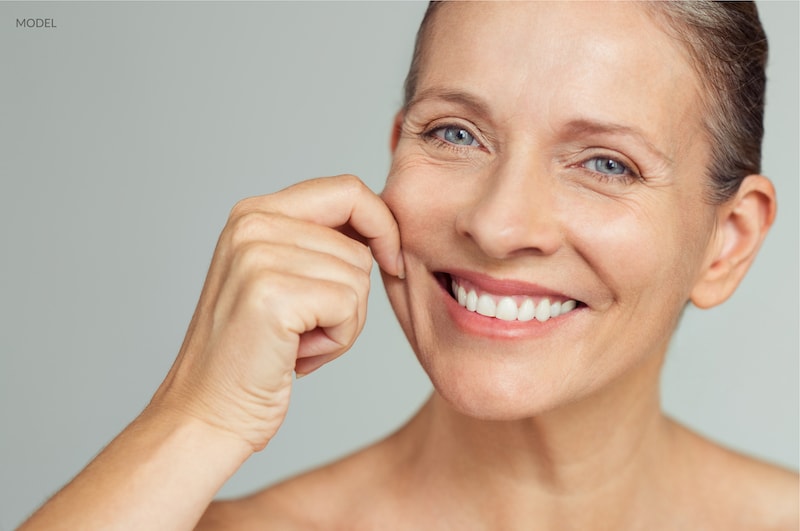 Over time, collagen and elastin, the proteins responsible for making your skin look youthful, deplete naturally and can be further damaged by the harmful action of free radical molecules, which are naturally generated in your cells as you age. Prevention is the most effective way of slowing down premature aging effects.
Our modern diet is littered with unhealthy processed and sugary foods that lead to inflammation and oxidative stress. By making food choices based on their nutritional content, you can prevent oxidative stress by neutralizing free radicals. Foods rich in antioxidants, including carotenoids, can keep you healthier and your skin younger for longer.
To slow down the aging process, it is crucial for individuals to focus on staying healthy with proper nutritional support, a well-regulated lifestyle, and low-stress conditions so that they can look and feel well into middle age and beyond. Research supports that a healthy diet with specific nutrients can significantly help reduce the common signs of aging.
Let us look at some of the diets that are beneficial in reversing the aging process.
Mediterranean Diet
The Mediterranean diet is a diet plan reported to work for many health issues, including fighting the aging process.
The diet is based on the foods that people who lived in the countries bordering the Mediterranean Sea used to eat. It emphasizes the intake of fresh vegetables, fruit, whole grains, olive oil, nuts, fish, and water while reducing the amounts of processed foods, red meat, and artificial sweeteners.
There are studies showing the positive health and potential age-reversing effects of a Mediterranean diet, making it worth considering. The diet is shown to result in reduced levels of C-reactive protein, an inflammatory protein associated with aging.
Paleolithic Diet
Paleo diets, also referred to as the Stone Age or "caveman" diet, consist of plenty of leafy vegetables, fruits, fish, organic meat, nuts, and natural oil while excluding whole or refined grains, legumes, refined sugars, and dairy products. It's a low-carb, high-protein diet with low dietary acids, such as phosphate, which can help slow metabolic processes associated with aging.
Miocene Diet
This is an ancient ruminant diet that comprises a wide spectrum of fruit and leaf-eating niches.
These diets offer the benefits of necessary vitamins and minerals that are essential for a youthful-looking appearance and longevity. 
Make a decision today to maintain a proper diet for good skin health.
Interested in Learning More?
Contact us at 310-441-2263 or 562-297-4068 or fill out our online contact form to learn more about the effects of nutrition on skin aging.