How Can Lasers Remove Unwanted Hair?
Posted on: February 28, 2020 in Category: Laser Hair Removal
Do you enjoy smooth, depilated skin?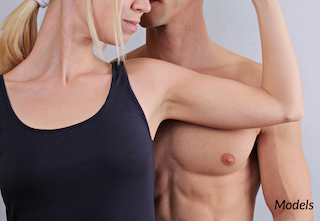 Then you know the time investment and expense that goes into routinely removing hair from your body. The use of razors, waxes, and creams are messy and time consuming, and other hair removal products promise amazing results—only to disappoint. 
And because maintenance is ongoing with all of these options, you have to repeat your efforts over and over. 
Fortunately, there is a far more efficient solution that eliminates all these problems. This solution is laser hair removal.
How Does Laser Hair Removal Work?
Diode laser hair removal uses semiconductor light technology that produces coherently visible to infrared light to break down hair follicles. Diode laser hair removal used at Sand Institute has the deepest and superior melanin absorption (the pigment found in the hair follicle) compared to other laser hair removal technologists. The laser generates heat through concentrated light pulses. This process damages the hair follicle, which prevents most new hair growth over time.
Multiple sessions are required. Your hair goes through cycles of growth, rest, and falling-out. Spacing out sessions allows your doctor to target your follicles during all of their growth phases. 
You will likely start seeing results after about two appointments.
How Safe Is Laser Hair Removal?
This is one of the most popular cosmetic procedures being performed today. It is a precise process that allows your doctor to target your hair follicles without marring the surrounding skin.
The most common side effects are redness, skin irritation, and short-term discomfort during and following treatment. 
Temporary pigment change may be a potential risk for some as the laser may lighten or darken the skin in the treated area. This is most common for people with darker skin tones or patients who have experienced significant sun exposure too close to their laser hair removal session.
Of course, all potential risks will vary depending upon the patient. Overall, it is incredibly safe. Speak with your doctor about any existing risk factors and be sure to follow their instructions, like avoiding sun exposure and not waxing or plucking during laser hair-removal cycles.
Is Laser Hair Removal Permanent?
This is a long-term hair-removal method. The laser permanently disables most of your hair follicles for lasting smoothness. 
In some cases, a few follicles may eventually regrow hair. This new growth is lighter and frailer, and therefore, barely noticeable.
Does Laser Hair Removal Work for all Skin Types?
Happily, laser treatment technology has advanced from the days when they were only appropriate for patients with fair skin and dark hair. 
This procedure now works well for both light and dark skin tones. Customized laser treatments can address all skin types, hair types, and hair color. Your doctor can discuss your needs and the available options that will deliver the best results for you.
Want to Learn More?
Contact the Sand Institute to schedule a consultation at one of their two convenient locations to discuss the benefits of laser hair removal. Call our Los Angeles office at (310) 441-2263 or our Paramount office at (562) 297-4068.