Microneedling vs. Skin Peels – What's Right for You?
Posted on: December 10, 2019 in Category: Uncategorized
4 min read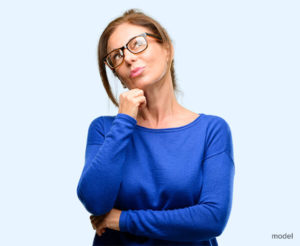 Everyone's skin ages at different rates and in varying ways. Since no two people will develop identical signs of aging, we shouldn't provide skin treatments that are made with a one-size-fits-all approach.
When looking for a more unique regime to improve your skin tone and texture, it is important to consider a variety of options available.
At-home routines are recommended to maintain and prevent signs of aging from developing. However, these cannot always achieve the radiant complexion you desire.
In these cases, we often recommend one of our proven non-surgical skin treatments— microneedling with growth factor or a professional skin peel.
What Is Microneedling?
Microneedling is a non-invasive skin-rejuvenating procedure that uses a hand-held device to create small punctures on the surface of the skin. These skin punctures created by the needles cause cytokines release. Cytokines are signaling proteins that cause tissue regeneration and stimulate cell renewal. An external growth factor from stem cells or from your own body's platelets called platelet rich plasma (PRP) is prepared and is used with microneedling procedure for better cellular regeneration.
During the healing process, the natural blood circulation to the treated area is promoted and this causes new collagen formation in the skin of the treated area.
The newly formed collagen tissue in the treated area improves glow, tightness and texture of the skin. Microneedling can correct the following conditions:
Skin tightening
Wrinkle reduction
Hyperpigmentation
Scars
Acne Scars
Stretch marks
Benefits of Microneedling
Benefits of microneedling include:
Non-invasive, in-office treatments
Minimal to no downtime
Redness that fades within an hour
Long-lasting results
It can be combined with an external growth factor or growth factor from your own platelets (PRP) for enhanced results.
What Is a Skin Peel?
Skin peels, also referred to as chemical peels, are solutions applied to the outermost layer of skin. After skin peel application and over a period of approximately seven days the outermost layer of the skin sloughs off and a fresher, brighter and firmer complexion is revealed.
You may consider a skin peel if you have noticed one or more of these aging-related issues:
Wrinkles
Sun damage
Pigmentation
Acne/acne scars
Skin roughness
Types of Skin Peels
Skin peels come in various strengths using different ingredients to uniquely target your needs.
At the Sand Institute, our professional skin peels can be used in combination with vitamins and pigment removal substances if necessary to better treat the problem area.
We offer three major skin peels, which our specialists help to customize to your skin's needs.
Alpha Hydroxy acid (AHA) – A strong peel that can only be applied by a physician. This powerful exfoliant removes the outer layers of dead skin cells, allowing for deeper penetration of the active ingredients which improves the promotion of collagen production. The AHA peel is safe for all skin types.
TCA Acid Peel – The deepest peel offered, which rejuvenates the outer layer of skin cells. It stimulates collagen and elastin synthesis the two most important components of the skin to promote a smoother, more supple complexion. An ideal treatment for wrinkles, loose skin, pigments, acne and also to reduce the appearance of pores.
Replenix® MD Perfect 10 Peel – An in-office peel that actually peels! Replenix® contains a specially formulated rich blend of effective acids. This peel works on a deeper tissue level to promote cellular turnover and stimulates collagen production.
The Benefits of Peels
Skin peel treatments are usually fairly quick. The most significant benefit of the chemical peel is the fact that a trained skin care professional can uniquely tailor the formula to target your specific skin issues.
There is almost no to very little recovery with newer ph balanced skin peels we carry, it is possible that your skin may become dry and flakey to slough off the old skin, most people feel it doesn't prevent them from performing their necessary day to day activities.
Which Skin Produce Is Right for Me?
In general, skin peels are recommended for people looking to improve their loose skin, wrinkles texture and pigmentation of their skin.
You may consider the skin peel if you are looking for a brighter and more radiant complexion.
Microneedling, on the other hand, tends to restore tightness and improve the appearance of wrinkles and fine lines. This technique may be best if you are looking for a more youthful and healthy skin.
Have More Questions?
A consultation with a trained skin care professional is the best way to determine what treatments and enhancement are right for you.
To start your skin journey, contact The Sand Institute by calling our West Los Angeles office at (310) 441-2263 or if you are in the Paramount area, call (562) 297-4068. You can also contact us online.