Promote Collagen Production With Mesotherapy
Posted on: May 29, 2020 in Category: Mesotherapy
2 Min Read: 
Nearly everyone seeks younger-looking skin once they begin to age. Although many invasive treatments are available to address the most common signs of aging, a lot of men and women prefer to look at non-surgical alternatives.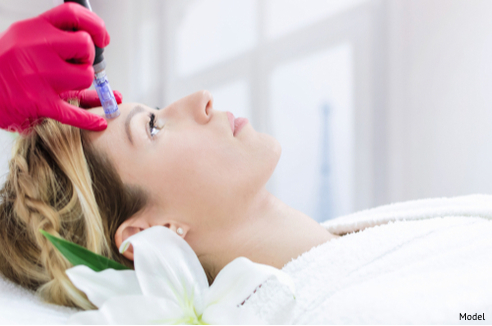 One popular non-surgical treatment uses the power of neocollagenesis to return youthful skin and tighter contours. It's called mesotherapy.
What Is Mesotherapy?
Mesotherapy is an innovative technique that targets loose skin, excess fat, and a host of other issues. This unique and revolutionary treatment was first developed in the 1950s by French pioneer, Michel Pistor, to treat chronic pain. Since then, it has been adapted to address the breakdown of collagen—the primary agent of skin elasticity.
How Does Mesotherapy Work?
Elastin and collagen are the building blocks of your skin. While these proteins are produced in high amounts when you are young, their production lessens as you age. Mesotherapy involves multiple injections in the mesoderm (middle layer of your skin), targeting and stimulating the production of these proteins.
The injected formula varies, but it is a combination of minerals, vitamins, herbal extracts, antioxidants, and hyaluronic acid. Its ultimate purpose is to kickstart neocollagenesis (the re-growth of collagen), and once collagen is stimulated, it can lead to younger-looking, more elastic skin.
What Conditions Can Be Treated With Mesotherapy?
The increased collagen production stimulated by mesotherapy injections improves facial aging concerns like fine lines, wrinkles, under-eye bags, and irregular skin pigmentation. However, mesotherapy is not only used for anti-aging purposes. These injections can also be used to treat thinning hair and for body contouring (including cellulite and localized fat reduction).
In addition to aesthetic concerns, mesotherapy has proven to be an effective treatment for conditions such as chronic pain and inflammation.
What Kinds of Results Can I Expect With Mesotherapy?
Results will vary with each patient, and multiple treatments will be needed before optimal improvements are visible. Some patients can expect up to 15 sessions; however, as few as three sessions may do the trick, depending on the extent of the concern.
Is Mesotherapy Safe?
Clinical testing has ensured that mesotherapy is safe. You are advised to avoid taking aspirin products or anti-inflammatory drugs in the week leading up to your treatment. This is to lower the risk of bruising and bleeding at the injection site. Following treatment, ice can be applied topically to lessen any lingering discomfort.
Interested in Learning More?
If you are curious about mesotherapy and what these injections might do for your skin, do not hesitate to contact the Sand Institute. Call 310-441-2263 in Los Angeles or 562-297-4068 in Paramount, California, or fill out our online contact form to schedule a consultation or treatment.