Thread Lift Procedure
Posted on: July 30, 2018 in Category: Thread Lift Procedure
Most of us strive to look our best at every age. However, no matter how hard we try, we cannot stop the aging process from happening. Fortunately, there are non-surgical procedures, such as Dr. Sand's minimally invasive non-surgical thread (MINT) lift, that can correct facial aging by restoring youthfulness and rejuvenating your appearance. This safe, minimally invasive procedure can improve visible signs of aging, requires no downtime, and provides patients with their desired results more quickly than a traditional facelift procedure.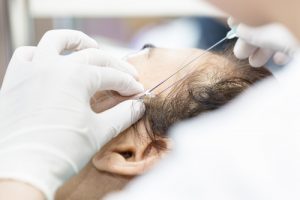 What It Does
While facelift surgery can produce appealing facial rejuvenation results, it often requires extensive treatment and a longer recovery period. The MINT thread lift is designed to elevate and tighten sagging tissue around the face and neck quickly and efficiently. The procedure utilizes threads that are made of a material known as polydioxanone (PDO), similar to the material used in surgical sutures, to produce beautiful and natural-looking results. Not only can this procedure enhance your facial appearance, but it can also provide patients with the benefits of a face, neck, and brow lift. The MINT thread lift stimulates the production of collagen, improves skin texture, restores elasticity, promotes blood circulation, and minimizes fine lines in the following areas:
Forehead
Eyebrows
Under the eyes
Cheeks
Mid face
Around the nose
Jawline
How It Works
After your consultation at the Sand Institute, the procedure only requires local anesthesia. Dr. Sand will carefully insert the threads underneath the skin into the subcutaneous layer as they work to "lift" the sagging tissue of the face. With time, the production of new collagen formation around the threads increases, and the aging signs caused by collagen loss and gravity will significantly improve. The barbes in the MINT PDO thread are machine molded through a patent technology, which results in a much better lifting effect compared to other PDO threads. With MINT PDO threads, a more youthful appearance with long-lasting results can be achieved.
To learn more about Dr. Sand's MINT thread lift, or to find out if you are an ideal candidate for the procedure, you can contact us at our Los Angeles office by calling 310-441-2263 or our Paramount office at 562-297-4068.