What is IV Therapy?
Posted on: May 24, 2016 in Category: Wellness Guide
What is IV Therapy?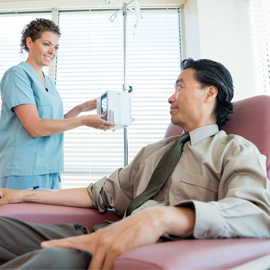 It is truly amazing what nutrients are capable of doing for the body. We require nutrients to live, and we get most of those nutrients through our diets. But even the healthiest of diets is often lacking in at least a few important nutrients. Vitamins are helpful in making up the difference, but the benefits of oral vitamins have been debated a lot as of late, as it is found that the processing that goes into making a vitamin actually negates most of the benefits of the added nutrients.
Missing nutrients in your diet puts you at risk of what is called a nutrient deficiency. A nutrient deficiency is the medical term for there being a lack of certain nutrients in your body, resulting in the inability for your body to function at an ideal level. Dehydration is one form of nutrient deficiency that can occur when the body lacks proper fluid levels. Deficiencies can develop in connection to any required dietary nutrient.
The best way to correct or avoid deficiency is to supplement your daily nutrient intake with vitamin therapy. While oral vitamins can be helpful to a limited degree, a much more efficient method of stimulating nutrient intake is through intravenous, or IV therapy.
Benefits of IV Therapy
IV therapy is much more powerful than oral treatments. Rather than increasing nutrient dosage orally, leaving the metabolism to process nutrients, IV therapy skips the digestion process and pumps nutrients directly into the bloodstream—just as an IV would provide you with medicine if you were to visit the hospital.
IV therapy is growing in popularity thanks to the drastic improvement that many people feel after a single session.
During an IV therapy session you are hooked up to a standard IV. The IV pumps nutrients, vitamins and minerals directly into your bloodstream, giving the body a super quick way to absorb the nutrients it needs. The result is an instant change in the level of nutrients available in your body, which often translates to a quick increase in energy levels and decrease of other uncomfortable symptoms.
IV therapy can be used for:
Nutrient deficiency
Toxin removal and reduction
Immune system improvement
Introduction of antioxidants
Recovery from infection
For the best results with IV therapy weekly sessions are typically recommended. During these sessions you can expect to sit comfortably in your physician's office while nutrients are administered via the IV. Improvement is often noted with as few as four or five weekly treatments.
For more information about intravenous therapy and other wellness solutions, talk to your anti-aging doctor.