Aging: An Issue of Inflammation
Posted on: August 17, 2016 in Category: Wellness Guide
Aging: An Issue of Inflammation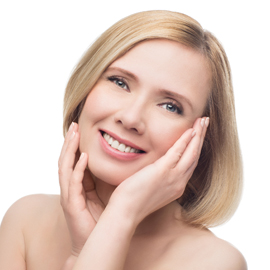 What is the secret to youthful, balanced, wrinkle free skin? Is it lotions? Special tanning beds? All natural concoctions or mud baths? You could spend a small fortune on skin care products that will promise you amazing results, but chances are you will walk away disappointed and with minimal results.
Never make the mistake of overlooking the complexity of the body. The skin is an organ, just like your heart and lungs. When you want to do something good for your body, when you want to help promote a healthy heart or support any other organ in your body, you don't reach for a cream. Instead you look for positive things to put into your body that promote balance and wellbeing.
It is no different when it comes to finding the best treatment for your skin. What goes inside your body directly effects what shows up outside of your body. This is true for your digestive health, and it is most certainly true when it comes to promoting healthy and youthful looking skin.
Inflammation and Skin Damage
Chronic inflammation in the body can cause all sorts of issues that are commonly associated with aging, from poor digestive health to arthritis. But when these symptoms set in, many don't realize that they are preventable or a reaction to anything specific going on in the body. They are common, and they tend to develop with age, and so millions of people will accept them as inevitable and move on living with poor health. This just isn't necessary.
The same sources that cause these digestive and joint pains are behind much of the reason why skin damage shows up. This means that taking a holistic approach to your antiaging treatment program by reducing the amount of inflammation in your body can help you experience improved health and better skin.
Here are just a few of the leading causes of inflammation that you'll want to address:
Stress
High-sugar foods
Undiagnosed food sensitivities and leaky gut
Hormonal imbalance
Overuse of prescription drugs
Environmental toxins, like cigarette smoke
Overexposure to sun or tanning beds
Lack of exercise
For many people, inflammation in the body is a direct result of a combination of two or more of these common causes. Making healthy changes and taking a proactive approach to your health can significantly improve your ability to sleep, your mood, your weight, and your skin.
Before making any changes to your antiaging therapy program or to your diet plan, make sure that you talk to an antiaging doctor to develop a plan that is best for your personal health needs.