Facial Aging and How to Fix It
Posted on: August 24, 2016 in Category: Wellness Guide
Facial Aging and How to Fix It
How fat grafting is completely revolutionizing the treatment of aging.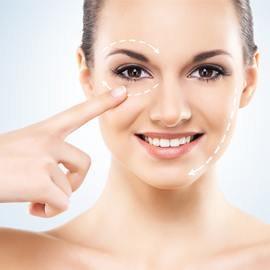 Age happens. It happens to everyone, and as long as you live there is no way to avoid it. However, that doesn't mean that you have to flaunt it. There are some people who manage to stay looking young and vibrant well beyond the traditional years of youth, making it all but impossible to guess their age. We've all seen photos of celebrities who seem to go 20 years without aging a day. Achieving this comes down to preserving the appearance of youth in the face.
Looking Young
There are all sorts of reasons as to why evidence of age will become visible in the face. Environmental reasons are often the first to receive blame. Too much time in the sun, excessive make-up use, contact with cigarette smoke and other toxins—exposure to these sorts of issues will cause wrinkles to develop and will reduce the elasticity and youth-like appearance of the skin.
But even if you invest in fancy lotions and avoid the source of these toxins to the best of your ability, there are other factors at play. Stress will weigh on your face like it will weigh on every other aspect of your body, causing wrinkles to develop and bags to form under your eyes. Genetics play a role too. There are some things that just happen with age: it happened to mom or dad, and now it will happen to you.
Dermal fillers like Botox have long been looked at as the best treatment option for correcting cosmetic facial issues that develop with age, but the problem with this sort of treatment is that it is minimal in its impact, and is only temporary. After six months to a year you'll need to get the treatment all over again, and sometimes the lingering effects of the filler wearing off actually means you'll need more treatment to achieve the same results again.
Fat grafting or fat transfer is getting a lot of attention as a more natural alternative to traditional dermal fillers. This process removes fat from problematic areas of the body, like the stomach, arms or thighs, and uses that fat to fill in sunken or uneven areas of skin in the face. This is a more long-term solution, lasting way longer than a traditional Botox treatment.
Fat grafting is able to address the most common signs of facial aging, including age spots, broken blood vessels and wrinkles. The treatment is also used to lift problematic areas of the forehead, eyes, neck and face.
Whether you've tried traditional dermal fillers in the past or are looking for your first attempt with cosmetic facial rejuvenation, it is worth considering the benefits of fat grafting before jumping to any one procedure. Talk to your cosmetic surgeon for more information.