Antiaging Therapy More Important During Menopause
Posted on: August 26, 2016 in Category: Wellness Guide
Antiaging Therapy More Important During Menopause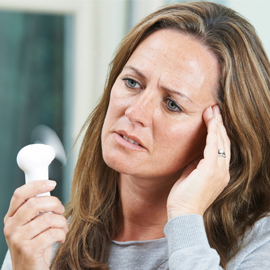 Those sleepless nights followed by daily mood swings and uncomfortable hot flashes might be having a larger impact on your greater well-being than you originally thought.
Menopause is known as one of the more challenging periods of life. It is filled with a series of uncomfortable symptoms that feel like they will never subside. For many women, the most uncomfortable concerns of menopause are merely amplified by the realization that this milestone marks what is perceived as the onset of old age, which will bring on its own bout of mood swings and anxiety.
Whether menopause causes aging or aging causes menopause is unknown. What is known is that this uncomfortable period is something that every person (yes, men too) will experience. And the way that you handle this period, meaning how you cope with the symptomology and your pro-activeness in finding treatment to help you overcome the most uncomfortable of the symptoms, could actually have a lasting impact on your overall wellbeing and health. This means that working with an anti-aging program can do more than simply help you be more comfortable, but can actually significantly improve health outcomes long-term.
The benefits of anti-aging programs, especially during menopause, is becoming more and more evident as a correlation between insomnia during menopause and early death has been discovered. Specifically, researchers have found that women who attempt to just suffer through the symptoms of menopause without addressing the problems at hand are more likely to cause significant damage to their health. Insomnia is one of the most common symptoms of menopause, and far too many women just struggle through the sleepless nights without seeking help.
Sure, age is natural—but feeling miserable and unhealthy is not. Antiaging medicine helps to address the most common symptoms of aging, helping you to feel a restored level of vitality through menopause and beyond.
Menopause speeds up cellular aging by about six percent. This is why so many women would describe menopause as a sort of explosion. Age happens slowly overtime until menopause hits, and then the metaphorical cork flies off the bottle and you are left feeling tired, sore, and mentally all over the place. Antiaging therapy programs take advantage of bioidentical hormone replacements that work to stabilize hormone fluctuations, which are the primary cause behind so many of the uncomfortable symptoms of menopause and aging in general.
There is no reason to struggle through menopause without help. Bioidentical hormone replacement (BHRT) and antiaging medicine can help you find peace and rest, even during menopause.