BOTOX® Cosmetic Is for Men Just Like You
Posted on: May 01, 2019 in Category: BOTOX® Cosmetic
In a culture that often correlates youth with success, more people are looking for anti-aging tools such as BOTOX® Cosmetic. Many men have seen the potential benefits of BOTOX® Cosmetic injections to treat wrinkles and fine lines. This subtle treatment of wrinkles and lines can help men feel more confident.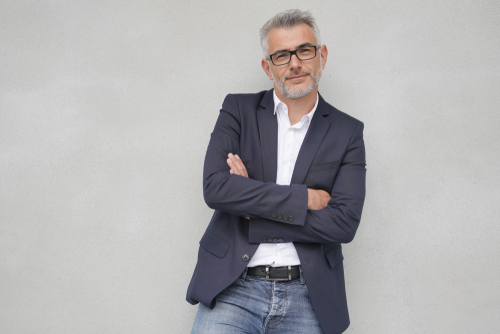 As we age, wrinkles, fine lines, and other imperfections start to become more noticeable on our faces. Plastic surgery and cosmetic treatments for men have come a long way as more and more male patients are looking for ways to stay young. While some men prefer to undergo extensive procedures like facelift surgery, others prefer a less invasive method such as  BOTOX® Cosmetic. BOTOX® Cosmetic can address signs of aging to help men achieve smooth skin and a youthful complexion.
What Is BOTOX® Cosmetic?
Over time, the constant motion of muscles in the face can cause men to develop horizontal creases and lines on their forehead. Aging can also cause imperfections like crow's feet and smile lines to form along the mid and lower half of the face, especially around the mouth and eyes. BOTOX® Cosmetic is a non-surgical, FDA-approved treatment performed on an outpatient basis that uses purified botulinum toxin to relax the underlying muscles in the skin, which creates a smooth appearance. It can also treat the following facial issues:
Jowls
Drooping brows
Smoker lines
Chin wrinkles
Neck bands
Bunny lines on the nose
How Does It Work on Men?
Because a man's skin texture is different than a woman's, each BOTOX® Cosmetic treatment is tailored to every patient's specific concerns and aesthetic needs. One of the most common reasons men undergo BOTOX® Cosmetic is to reduce the appearance of crow's feet and horizontal lines.
During your treatment, BOTOX® Cosmetic solution will be injected into the treated area and relax the muscles under the skin, which results in a smoother-looking facial appearance and a slowing down of the aging process. Although rare, some bruising following your BOTOX® Cosmetic treatment can be expected, but this should resolve after a few days. BOTOX® Cosmetic can provide you with long-lasting results but they are not permanent. Depending on the amount of correction needed, it is recommended that you follow up with your doctor to undergo repeat treatments every four to six months to help you maintain a young and fresh look.
To learn more about BOTOX® Cosmetic, determine if you are an ideal candidate, or to learn about our other anti-aging tools, please contact our Westwood office at (310) 441-2263 or our Paramount office at (562) 297-4068. You may also schedule a consultation online today!