Causes and Treatment for Facial Pain
Posted on: July 05, 2016 in Category: Wellness Guide
Causes and Treatment for Facial Pain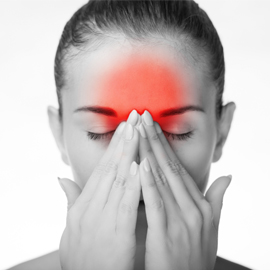 Pain can develop anywhere in and around the body. Most of us have experienced headaches or stomachaches before, which stem from internal causes and result in significant discomfort. A great number of people also develop pain from injuries, whether sport or work related. An ankle sprain or a broken bone will lead to a great deal of pain and discomfort, but when pain develops in any of these common areas it is often easy to figure out where the pain is coming from.
For some, pain develops in places that you wouldn't expect, and for reasons that may be difficult to identify, especially at first. Trigeminal Neuralgia is a chronic condition that is characterized by sudden and sharp feelings of pain in the face.
It can be caused by a wide array of chronic disorders, including:
Abscessed tooth
Sinus infection or sinusitis
TMJ disorders
In some situations, chronic facial pain will develop for no identified medical reason like those listed above. When this happens, the cause is often due to a blood vessel that applies pressure on nerves at the brain stem, resulting in the sensation of pain. The pain is generally sharp, sudden, and stabbing, sometimes lasting only several seconds. Many people with chronic facial pain describe the sensation to one of electric shock; fast, sharp and incredibly painful.
When facial pain develops, it can develop anywhere. You may experience it in your lips, eyes, nose, or forehead. Simple daily tasks like brushing your teeth, putting on make-up or even attempting to swallow a bite to eat could result in excruciating pain.
Best Treatments for Facial Pain
Anti-aging therapy can be helpful in the management of chronic facial pain. This is especially true of intravenous therapy, which uses concentrated levels of powerful vitamins and nutrients to support the body's natural pain-fighting powers.
Intravenous infusions of Vitamin C and antioxidants may be helpful in eliminating facial pain. Specifically, infusions of Magnesium and ketamine may be helpful in eliminating the acute and often severe pain associated with trigeminal neuralgia.
If you have a diagnosis of fibromyalgia, myofascial pain, neuropathic pain or joint pain come by the Institute, we've got a treatment plan just for you. Medications, trigger point injections, intravenous infusions and selective nerve blocks have been shown to be clinically useful in helping to alleviate your pain.