How Does KYBELLA® and BELKYRA® Dissolve Fat?
Posted on: August 14, 2020 in Category: KYBELLA®
2 Minute Read: 
If you are struggling with stubborn fat pockets that do not respond to diet and exercise, you might want to consider intralipotherapy. Also known as injection lipolysis, this safe, non-invasive, FDA-approved treatment uses fat-dissolving injections such as KYBELLA® and BELKYRA® to help reduce fat below the chin.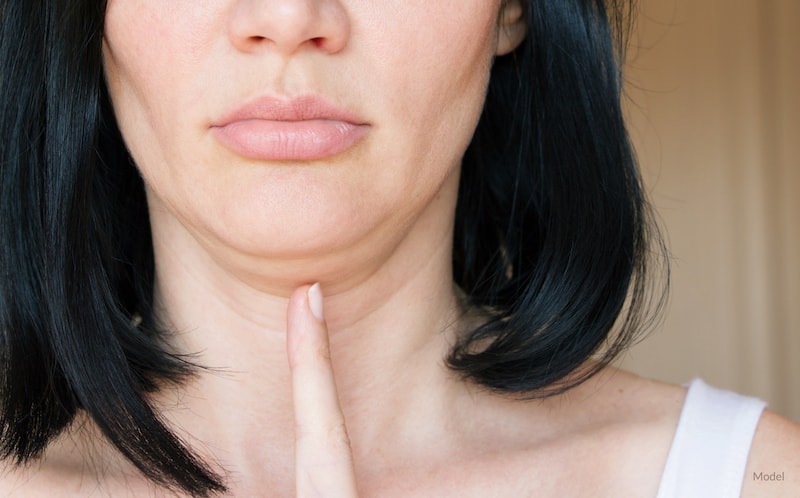 How Do Fat-Dissolving Injections Work?
FDA-approved fat-dissolving substances use sodium deoxycholate, a bile salt that is highly effective in disrupting and breaking down the fat cells. Known as an ionic detergent, sodium deoxycholate triggers the natural destruction of fat cells, a process known as lipolysis.
With intralipotherapy, the fat-dissolving substance is carefully injected into the treatment area using a sterile syringe or small medical cannula. The unwanted fat cells die off over a few weeks and are painlessly flushed out of the body via the lymphatic system.
Intralipotherapy is performed on an outpatient basis, and only light topical anesthesia at the injection site is needed. Most patients are able to resume their normal daily activities immediately following treatment.
What Areas Can Be Treated With KYBELLA® and BELKYRA®?
KYBELLA® and BELKYRA® are most commonly used to treat excess fat under the chin (double chin). A double chin can develop due to several reasons, including genetics and weight gain. Since it is very difficult—if not impossible—to target submental fat, fat-dissolving injections are ideal and permanent. These injections target the fat cells in that area while leaving the surrounding cells untouched.
What Other Areas of the Body Can KYBELLA® and BELKYRA® Be Used? 
FDA has approved KYBELLA® and BELKYRA® exclusively to treat the excess fat under the chin. However, although off-label KYBELLA® can also be used to dissolve excess fat cells in the abdomen area, love handles, saddlebags, and armpits.
What Results Can I Expect From Intralipotherapy?
Depending on your specific goals and anatomy, you may have between two and six treatments spaced approximately four to six weeks apart. Immediately after each treatment, it is common to experience some minor swelling, which can cause the area to look fuller than before the injections for a short time.
In general, most patients see the final results of their treatments within six to eight weeks, and barring weight gain, patients can expect the results to be long lasting.
Am I a Good Candidate for Fat-Dissolving Injections?
Patients who have good skin tone, are at or close to their ideal body weight, and are in good overall health may be candidates for intralipotherapy. Keep in mind that, as with all cosmetic surgery treatments, fat-dissolving solutions, such as KYBELLA® and BELKYRA®, are not weight loss treatments.
Interested in Learning More?
To learn if submental fat-reducing injections are right for you, contact the Sand Institute to schedule your confidential, no-obligation consultation with one of our medical experts today. Call our Los Angeles office at (310) 441-2263, our Paramount office at (562) 297-4068, or fill out our online contact form.