Rejuvenate Your Chin With KYBELLA® (Deoxycholic Acid)
Posted on: March 01, 2019 in Category: KYBELLA®
Weight loss and the natural effects of aging can cause us to develop excess fat in various areas of our body. One place fat can appear is underneath the chin. While some patients have been able to address this issue through strict diet and exercise, others have found these methods do little to provide them with the results they desire. Although plastic surgery is a great option to get rid of stubborn fat, some people prefer a less invasive approach. KYBELLA® is a safe, non-surgical solution for treating chin fat and providing you with a slimmer and toned jawline.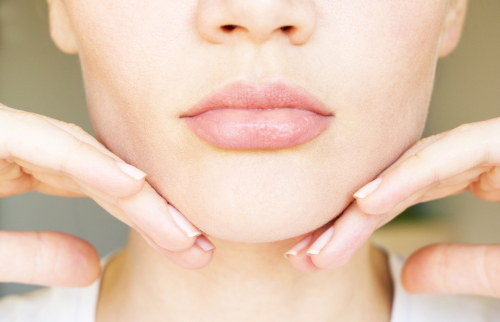 Off-Label Use of KYBELLA®
KYBELLA® can be used to treat and dissolve the stubborn belly, arm, bra, and inner thigh fat; however, these treatments are presently off label.
Why Choose KYBELLA®?
KYBELLA® is an FDA-approved injectable treatment that can correct facial imperfections along the chin using deoxycholic acid, which is known as a naturally occurring molecule found in the body. The acid breaks down the excess fat beneath the chin as your body absorbs the fat. KYBELLA® can also provide you with the following benefits:
Destroyed fat cells
Enhanced facial definition
No downtime required
Minimal discomfort
Long-lasting results
Ideal candidates for KYBELLA® are usually bothered by submental fullness under their chin, which is also known as a double chin, and they want to diminish its appearance. It may not be recommended to use KYBELLA® if you are currently pregnant, have trouble swallowing or breathing, or have any medical conditions in or near the chin area that can cause you to experience complications during your procedure.
How Does It Work?
During your treatment, several injections of KYBELLA® will be placed in the fat beneath your chin to destroy the fat cells. Once dissolved, the fat will no longer be able to accumulate in the treated area. While your results will provide you with a slimmer and more attractive chin, you may require multiple sessions spaced at least six weeks apart to help you achieve the results you desire. The number of treatments you undergo may depend on your aesthetic needs.
Although KYBELLA® requires little to no downtime, you may experience some minor swelling and bruising, which will resolve after a few days. Your results will start to become apparent usually after four sessions. However, up to six treatments may be recommended to achieve full results. Following your KYBELLA® treatment, you will notice a significant reduction of fat beneath your chin. Increase your self-esteem and feel confident knowing you have a slimmer and more contoured jawline.
To learn more about KYBELLA®, you can call our Westwood office at 310-441-2263 or contact our Paramount office at 562-297-4068. You may also schedule a consultation with Dr. Sand online today!