What Is Anti-Aging Medicine?
Posted on: June 14, 2017 in Category: Anti-Aging Medicine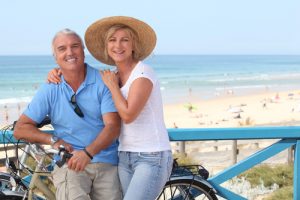 We all come to a point in our lives when that youthful bounce has left our step. It has probably come sooner than you expected, and you may not be ready for the dramatic changes in your body. Effects of aging can have a negative impact on the quality of your life, leaving you feeling as if you can't live the way you used to. At the Sand Institute, we create custom anti-aging treatment plans that help you feel younger and more vivacious.
How Does Anti-Aging Medicine Work?
Our specialists at the Sand Institute created custom anti-aging therapies, which are designed to maximize your health and well-being. We use a combination of hormone therapies, nutritional changes, and lifestyle improvement to help you feel better.
Benefits of Anti-Aging Medicine
Improved energy levels
Reduced discomfort during menopause
Helps maintain body mass and muscularity
Prevents weight gain
Improves sexual function and libido
What Therapies Are Offered?
Hormone therapy for women – We offer bio-identical hormones to help treat hormone imbalances caused by the aging process. Different hormone options include:

DHEA, which regulates the production of estrogen and testosterone.
Progesterone, which regulates sleep, contributes to brain function, and is associated with memory impairment, foggy thinking, and poor sleep.
Testosterone that can help maintain weight and improve sex drive in women.
Estrogen, which has the most significant impact on the quality of life of aging women.
Hormone therapy for men – We treat low testosterone in men, for whom low levels have affected their sexual health, mental well-being, and overall physical health. Our hormone therapy plans can include medical weight loss, nutritional changes, increased exercise, and hormone replacement therapy. Men with low testosterone may have one or more of the following issues:

Low sex drive
Erectile dysfunction
Fatigue
Weakness
Depression
Trouble sleeping
IV Nutrition and Pain Management – With age often comes aches and pains that are chronic, which can significantly impact your quality of life. You may have trouble sleeping, experience depression, weakness, or fatigue. Our IV infusions can help improve pain. Dr. Villarreal is a board-certified anesthesiologist who can help treat and manage pain caused by:

Cancer
Fibromyalgia
Diabetic neuropathy
Postherpetic neuralgia
Trigeminal neuralgia
Myofascial pain syndromes
Migraines
Cluster headaches
IV vitamin therapy – We can create custom IV vitamin therapies that are designed to bypass the digestive system, for great absorption rates. Prolonged illness, stressful lifestyle, and bariatric surgery can contribute to a malnourished state.
Who Is a Good Candidate?
Suitable candidates for anti-aging therapies are tired of the negative effects of aging. At the Sand Institute, we will perform a detailed physical and medical evaluation in order to determine your level of health. One of our trained professionals will help you develop a plan that targets your problems and their causes.
If you are ready to feel better and reinvigorated with life, schedule your anti-aging consultation with the Sand Institute today. You can call our LA office at 310.340.0171, our Paramount office at 562.774.2306, or you can contact us online.