Weight Loss Starts with a 30 Second Conversation
Posted on: November 28, 2016 in Category: Wellness Guide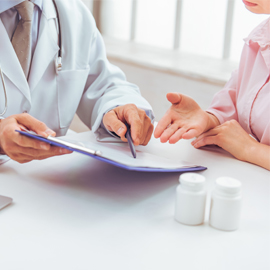 Stepping on the scale is a basic part of any visit to the doctor's office, and for many people it is the moment that is dreaded the most. Any anxieties about meeting with the doctor are minimal compared to that moment on the scale.
However, despite having you step on the scale, many doctors choose to avoid the subject of obesity and weight loss all together.
There is a lot of talk about political correctness and how to not offend people in polite society. For many family practice doctors, this desire to not offend will often extend into the examination room. A recent study by Oxford University found that many general practice physicians choose not to bring up weight loss or obesity with patients, even when it may be beneficial to the patient for the doctor to do so. However, choosing to steer away from the conversation regarding obesity might not be doing anyone any favors.
30 Seconds to a Healthier You
The team of researchers from Oxford University found that a simple 30 second conversation regarding obesity and weight loss is enough to make a significant impact on weight loss results—under one condition: referral to a medical weight loss program.
A medical weight loss program will change your entire approach to weight loss. Rather than taking advantage of the latest fad diet or requiring underdeveloped goals like eating healthier or working out more, a medical weight loss program uses proven techniques and strategies to help you make real change in your life.
Advantages of working with a medical weight loss program include:
Ongoing guidance and support from nutrition and weight loss experts
Medical interventions, including weight loss medications
Dietary support, including meal replacement programs
Too many people try losing weight on their own, not looking at obesity as the medical condition that it is. While there are plenty of personal or non-medical reasons to want to lose weight, it is important to always recognize obesity as the medical problem that it is. Being obese or overweight increases your risk of developing heart disease, type-2 diabetes, high cholesterol and blood pressure, and a plethora of other problems from skin rash to arthritis to an increased risk of certain cancers.
A 30 second chat with your doctor about weight loss can be the pivotal moment in your life that propels you towards a healthier lifestyle, but you don't have to wait for your annual check-up to bring about those changes. Contact us to learn more about what a medical weight loss program can offer you.