Winter Skin Care
Posted on: October 18, 2016 in Category: Wellness Guide
Winter Skin Care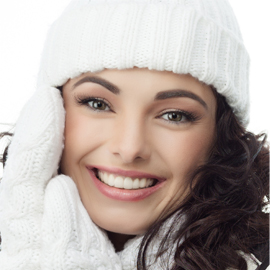 Everyone seems to get focused on losing weight during the winter months. This makes sense, with the holidays and the cold weather. It has been statistically proven that people typically gain weight during the last three months of the year, most intensely during the eight week period between Halloween and New Year's. But weight loss shouldn't be your only concern during the cold weather.
The cold weather can take a toll on your skin, too. Many people don't realize that your skin care routine needs to change with the seasons to accommodate for changes in moisture levels, sun exposure and heat. During the winter your skin is much more likely to dry out. Cosmetic services can help you achieve a complexion that you want to show off year round, but to keep it that way you need to work with your cosmetic doctor to develop a skin care routine that will keep your skin healthy and beautiful.
During the warmer months of the year you want to use items that help remove moisture build-up and oil from your face. This is why the cosmetic aisle is filled with oil-fighting cleansers, spf, moisturizers and masks and peels that deep clean your pores. During the winter you still want to keep those pores as clean as possible, but you need to be careful that you put away the products that will dry out your skin too much and opt instead for moisturizers and skin care solutions that will keep your skin free from dryness, despite any harsh winter air.
Your biggest skin-care battle during the winter is preventing your skin from getting dried out. You can do this by adopting a few healthy strategies, like:
Continuing to drink lots of water
Exercising daily, inside if need-be but outside if possible
Using a moisturizing gel to combat dry skin as it appears
Avoiding long overly hot showers or baths
Continuing to wear sunscreen to prevent sun damage
For whatever reason, the healthy habits that we know to adapt during the hot summer months are often discarded during the winter. This goes for dietary practices, but also for healthy habits like drinking enough water and exercising regularly. You also want to make sure that you are getting enough sleep, which should be easier this time of year thanks to the long winter nights.
Before trying anything new, make sure that you consult with your cosmetic skin-care doctor. Maintaining beautiful skin requires year-round diligence. Make sure that you are taking the steps you need to have healthy skin all year round.